Gilmore and I promise to make you smile with every drawing I make.
Hello and Welcome! I am Liz Huller Eisemann, storyteller at Gilmore the Dachshund ©. Gilmore and I live in sunny southern California. I am originally from Boston and still a bostonian through and through but nothing beats San Diego weather. I draw a lot of fake snow!
At 4 months old Gilmore traveled from Texas to California by airplane in August of 2015. I wanted to draw him from the moment he stepped out of his crate and on to my lap!
Picking up a 4 month old Gilmore at the airport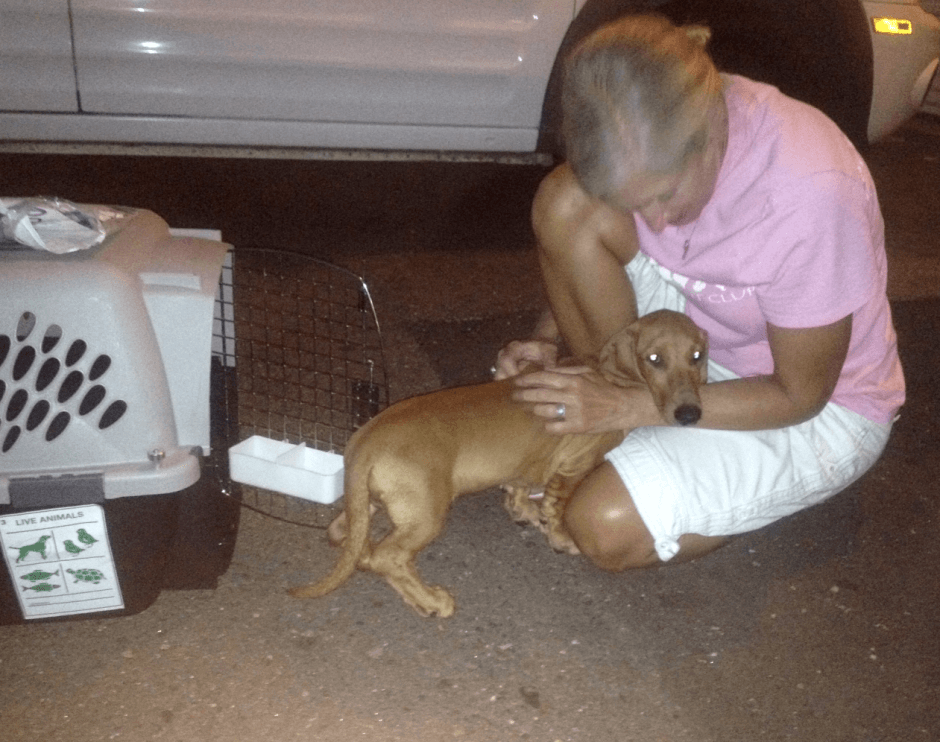 Every pet owner has their very own story, and when I illustrate a custom portrait I take the time to find the narrative of that story with multiple conversations and photos. Just as each story is personal to that special pet so is each custom portrait. Sometimes it takes just hours and sometimes it takes weeks to get a drawing right.
I am so very grateful and lucky to have already worked with truly wonderful clients big and small.
This is the first time I have worked daily as an illustrator! It's very scary, very humbling and tons of fun! Illustrating every day has brought me more joy than I could have ever imagined! I am thankful for the kind words my clients have shared, read what they are saying here… Reviews and Testimonials. and go ahead and look around at all of Gilmore's Adventures, I am happy to share my joy!
I love to draw a custom portraits commemorating happy moments and still always ready to illustrate a pet for a memorial portrait too.
I am working on a dog centric small business re-branding with multiple drawings and animations right now and having a blast. Please do not hesitate to contact me about any kind of illustrated collaboration, anything you may have in mind. Please do not hesitate to ask. Thank you for spending a minute learning of my wonderful journey with Gilmore the Dachshund, my best friend and muse.
Gilmore is now very big "The Longest Dachshund " and me in the studio.
If you are interested in working together or just want to know more about us,
do not hesitate to contact me. I love drawing for other people.