How can I help you?
Services I provide:
Custom pet portraits, illustration for brand developement, custom product and surface pattern design.
Most Gilmore the Dachshund drawings are available for licensing.

Let's work together and create something you will treasure.
Does your business need a new look?
Let's work together and create something  pawfect!
Your Gilmore the Dachshund © images are digital and can be made into a multitude of products.
A custom portrait professionally printed on rag paper with archival inks is a great choice.  Custom greeting cards, mugs, stickers, and beach towels are just some of the products I can design to accompany your print.
Every custom product I design is made with your vision and lots of heart. You can see some of the products manufactured for clients right here..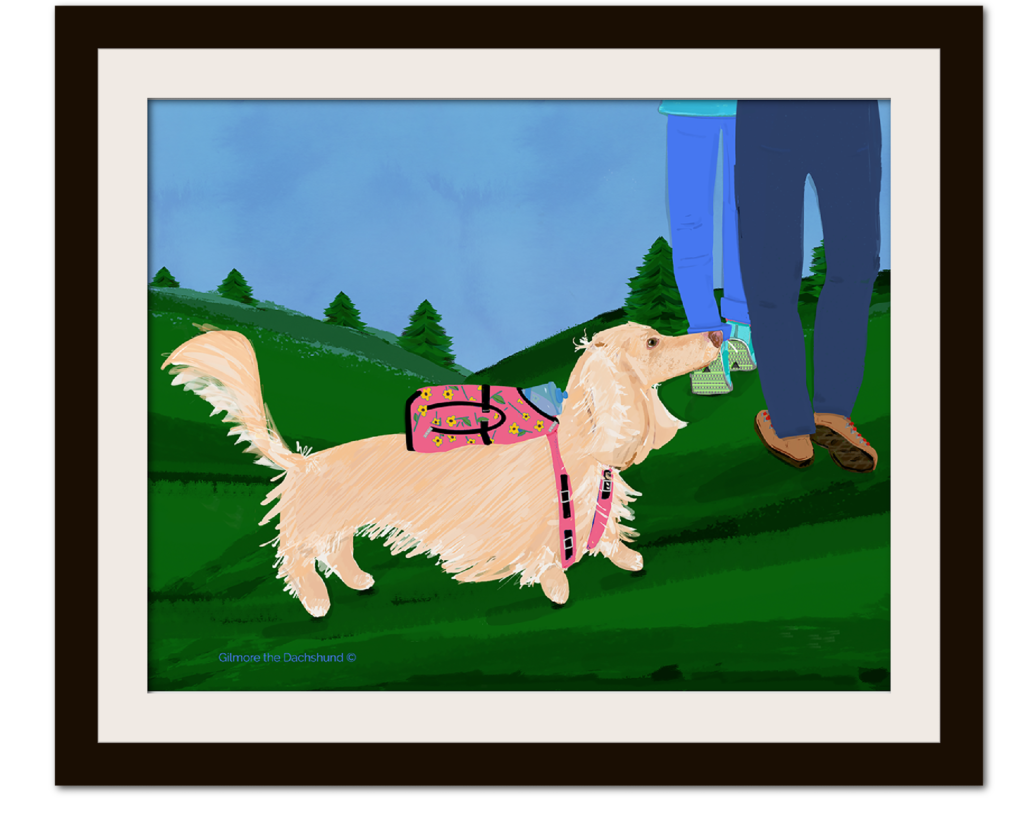 Every pet family has their own story and a Gilmore the Dachshund © custom portrait is like a page from a picture book, it tells a piece of that story.
Let's work together and create something wonderful.
I am kind, compassionate and generous with my time as well as my heart. I want your project to be enjoyable for both of us.  Even a memorial portrait can be a pleasant experience and bring you joy.
Your custom project may be a drawing of one dog, a family of pets or a whole new look for your brand or business.
A custom illustration typically takes two to three weeks before printing. Together we will make the timetable, but do not hesitate to ask about a rush….. I am always happy to obliege if my schedule permits.
Emperor Blue Custom Portrait
This memorial drawing was a gift from friends to a family after the loss of their adored dachshund "Blue".
It was an honor to have been selected.
Even under somber circumstances, there was a lot of joy created in drawing this adorable dog.
Let's Work Together
Please do not hesitate to contact me if you have a question about working together or just want to know more about us.